KING OF THE ROADIES Kickstarter Crowdfunding campaign launches!
.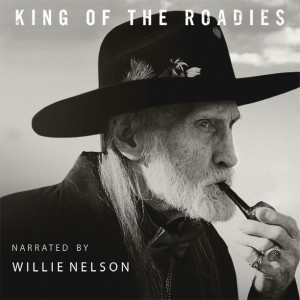 "With 64 years on the road and counting, Ben has become a living legend….Countless stars would not have shined without him." – Willie Nelson
"Big Ben's a living legend and he will outlive us all."
-Waylon Jennings (from the song Ode to Ben)
KING OF THE ROADIES is a feature length documentary about Benjamin Holladay Dorcy lll, the oldest working roadie, the crew member who works the closest with touring musicians. Mr. Dorcy's is a tale of longevity through perseverance and adaptability.  The film has been in production for the past ten years and is now part of a Kickstarter crowdfunding campaign that aims to raise funds necessary to shoot and procure additional footage and complete the final edit. The Kickstarter campaign launches today, May 19th to coincide with Ben's 90th birthday.
Ben Dorcy will speak live on Wednesday, May 20th at 2:30pm CST on the Dallas Wayne Show on Willie's Road House, Sirius XM Channel 59. He'll be celebrating his 90th birthday and the launch of the Kickstarter campaign and sharing stories from his legendary career. Willie Nelson, Randy Rogers, Jamey Johnson, Johnny Knoxville and the directors of KING OF THE ROADIES, Amy Nelson and Trevor Doyle Nelson will also be on hand to wish Mr. Dorcy a happy birthday.
Willie Nelson will narrate this feature length documentary about the life of Ben Dorcy aka "Lovey". Directors Trevor Doyle Nelson and Amy Nelson present a counter-culture tale of life on the road and the brotherhood that drives its momentum. The film chronicles the world's oldest and by most accounts, first roadie ever. It revisits six decades of show business that Mr. Dorcy helped to shape; including his time spent with John Wayne, Waylon Jennings, Willie Nelson, Johnny Cash, Elvis Presley, Patsy Cline and many more. Willie Nelson, Johnny Bush, Kinky Friedman, Jack Ingram, Jamey Johnson and the varied cast of characters who work behind the scenes of the music industry discuss a living legend.  
Willie Nelson's grand nephew Trevor Doyle Nelson and youngest daughter Amy Nelson offer an inside perspective to Ben, the man, the legend, and the eldest of the tribe. Amy explains the basis for this as part of the rejection of societal limitations, "He has no living relatives, yet he is the patriarch of a family of artists, and fellow roadies who love him dearly. They call him 'Lovey' And he calls them 'Lovey'. Despite all odds, he shows up to work on tour after tour after tour."
KING OF THE ROADIES is a film that is ten years in the making and is nearing the post production phase.  It's during this phase that money will be allocated from crowd-sourcing through the Kickstarter platform and will go into the expedited completion of the film. Money raised here will go to filming 30 more interview subjects, b-roll footage, original music recording and licensing of music and archival film footage. To contribute to this historic documentary project check out the tracker below. Your contributions are tied to exclusive rewards at varied monetary levels, the campaign concludes June 20, 2015.
#KingoftheRoadies